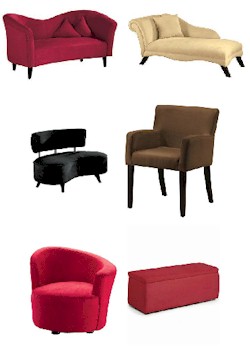 Home Decor Trends - Punch Up Your Decor with Fun, Colorful Seating.


2005 Home Decor Trends - Punch Up Your Decor with Fun, Colorful Seating.

Today's fashion-savvy observers are keenly aware that the "retro" look is everywhere: it's in our cars, our clothing as well as in our furniture. Encouraging this trend are the popular home makeover television shows that have infused the public consciousness with adventurous notions in decorating. Retro chic's bold colors and contemporary forms add fresh cheerfulness and whimsy to home interiors. Considering the demands of daily life, it's no wonder this latest style is so appealing. The design makes adults nostalgic for childhood and the colors are reminiscent of a box of crayons.

Drawing inspiration from mid-century modernism, Home Decorators Collection developed the Soho seating group. In 2003, the catalog introduced one chair in two colors and it exploded into an entire collection which now includes more than twenty distinctive designs in eleven opulent colors in velvety faux-suede fabric: red, beige, Seville orange, Moroccan brown, yellow, green, black, blue, pink, eggplant or chamois. Select items are also available in supple black or brown leather.

The Strata Chair, Loveseat and Sofa naturally evoke images of relaxing with a martini while Frank Sinatra croons from the hi-fi. Triangular throw pillows offset the curvaceous frame, reminiscent of the 1950s influence of geometric shapes. The most popular piece in this collection is the Juno Swivel armchair, with its back sloping into an armrest. Pair it with a round or rectangular ottoman of the same or complimentary color.

Since the emphasis is placed on cultivating "personal style" these days, try coordinating these pieces with other decorating styles, such as Asian, Mission, or even more traditional Queen Anne-inspired styles. Place all pieces on top of a shaggy white Flokati Rug of 100% wool and impress houseguests with the room's luxurious yet laid-back ambiance.

All generously proportioned designs feature fluid curves and gentle angles that follow the shape of the body to enhance ultimate relaxation. Check out this collection and other home furnishings at HomeDecorators.com.
Views: 1