Goodfellow Hardwood Flooring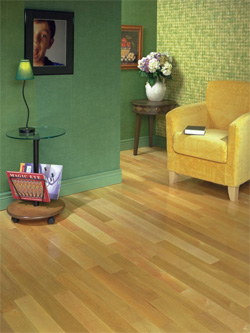 A quality floor from Goodfellow Hardwood Flooring adds warmth, sophistication, and increases the value of your home. Additionally, it strengthens and stabilizes the construction of your home. Because of its easy maintenance and hardness, hardwood flooring allows provides a healthy living environments. Goodfellow Hardwood Flooring offers a broad range of wood species, board grades, colors, sizes and wood finishes to meet the needs of even the most discriminating wood flooring buyer. Each wood floor they deliver reflects the many years of progress in state-of-the-art production. Goodfellow 's Millennium Finish is the toughest wear-resistant wood finish available today. Your satisfaction is their primary goal and they are dedicated to offering you the very best service and quality.
All Goodfellow Hardwood floors are prefinished in a climate controlled environment using the latest modern technology. Temperature and humidity are kept constant, and dust is entirely removed to deliver the best possible fit and finish.
Exotic Wood Flooring
The Goodfellow Hardwood International Collection features exotic wood species from all over the world. Floor boards are characterized by deep rich natural coloring, tremendous hardness and unparallel durability. Goodfellow Hardwood Flooring has spared no expense in manufacturing these premium wood flooring products. Immense care is taken in the kiln drying and milling of the floor boards under perfect conditions. The culmination of the manufacturing process is the application of 10 coats of aluminum oxide-based Millennium finish, which delivers tremendous resistance to wear and is backed by a 25-year residential warranty and a 3-year commercial wear warranty.
In its concern for preserving the world's forest, Goodfellow Hardwood Flooring ensures that all products are manufactured and harvested in accordance with local government regulations, including reforestation.
Bamboo Flooring
Bamboo is the world's most rapidly renewable forest resource. Bamboo flooring has been used throughout Asia for thousands of years. Not only is bamboo 27% harder than red oak and 13% harder than maple, bamboo is also lighter than most hardwoods. Bamboo is simply exceptional for use as a flooring material.
Using bamboo flooring contributes to slowing down deforestation. Bamboo matures within 4 to 5 years, while most other trees take decades to reach full maturity. Moreover, an acre of bamboo produces more flooring than an acre of hardwood forest. This hardy plant grows back after mature stems have been harvested. Cutting and lamination of fine strips of bamboo allow maximum use of this renewable resource.
The special structure of bamboo and multi-layer lamination give bamboo flooring its unique appearance. Goodfellow bamboo flooring is available in two tones, natural and carbonized, both equally rich and warm. The carbonized color results from steam conditioning, which darkens the wood slightly.
Bamboo stems are first cut into long, thin strips, boiled in water for two hours, then kiln-dried. Afterwards, the strips are glued together (laminated) in two different ways, horizontally and vertically, leading to the unique appearance of bamboo flooring. Original patterns may even be created by combining the tones of bamboo offered and/or the lamination techniques.
Goodfellow bamboo flooring is the culmination of total mastery over manufacturing and finishing techniques. Boards are machined with such precision that they fit each other to perfection, resulting in a smooth, even, totally magnificent finish. Bamboo boards may be nailed or glued to the subfloor surface, even over radiant heating systems.
Goodfellow bamboo is characterized by excellent dimensional stability, since the product is sealed on all surfaces. As a result, bamboo reacts very little to changes in ambient humidity. The aluminum oxide urethane finish is extremely abrasion-resistant and comes with a 25-year warranty for residential use.