Fausfloor® Laminate Flooring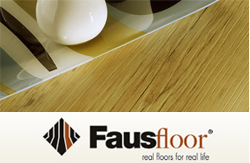 Faus Laminate Flooring has developed more laminate flooring technology than any other company in the world. And they're not stopping there. They have just expanded their Fausfloor® line to include additional fashion-oriented collections and exclusive patented technologies that no one else in the industry can offer.
Always a step ahead, Faus Laminate Flooring brings advanced expertise to the industry by offering patented products and features that take laminate flooring to the next level.
Over the past eight years, Faus' innovations have included the patented or patent pending:
Embossed-In-Registered® and JointGuard® Glueless Systems
InterPlank™ Design and Microbevel™ technology innovations
Longstrip™ plank design
FastDesign™ and Multi-Direction Design™ breakthroughs
In addition to the company's ability to offer the latest innovations, Faus Group, Inc. offers:
Pre-installed underlayment for noise reduction and easier installation
Fastrim™ Multi-Transition System - one SKU = five transitions
If you've ever walked on a laminate floor, chances are good you've benefited from the tireless research and development Faus Group has put into our technology.
Our MicroBevel® and Joint Guard® technologies work to greatly improve the durability and longevity of today's laminate floors. InterPlank® and Embossed-In-Register® make laminate floors so realistic looking you'll have to get on your knees to tell it's not real hardwood. And the new LongStrip™ design takes that realism to a level you'll have to see to believe.
Finish it all off with the easiest, most versatile trim and transition product ever created - FasTrim™. This amazing 5-in-1 system puts the perfect finishing touch on a beautiful floor.
Even more amazing are our newest design innovation breakthroughs - FastDesign™ and Multi-Direction Design™. They are truly revolutionary.
With Faus, you're getting more than just laminate flooring. You're getting real innovations and real technologies. You're getting real floors from real leaders.