BHK Laminate Flooring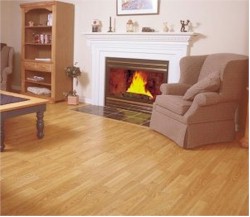 BHK Laminate Flooring has a gorgeous appearance and excellent performance characteristics, along with its many practical advantages, make BHK Laminate Flooring the perfect choice of for your home.
Wear resistant - BHK Laminate Flooring resists all kinds of surface wear and abrasion without suffering any effects.
Impact resistant - resistant to pressure from high heels or falling objects and long term pressure from chairs, cabinets, table legs, furniture feet, etc.
Scratch resistant - withstands foot traffic. High heels or office chairs on castors are no problem. (Special castors are available and it is advisable to use felt under furniture feet.)
Spills are no problem - Stains can be removed simply using a clean dry cloth and the BHK Maintenance Cleaner
Chemical resistant - Stubborn stains such as indelible markers or lipstick can be easily wiped away with a little acetone.
Easy to maintain - Just dust mop or vacuum. For regular cleaning use the their Cleaner and Mop Kit.
Burn resistant - A burning cigarette that falls on the floor for a few seconds will not cause the floor to burn or discolor.
Hygienic - smooth surface repels dust. Dust mites and other allergy causing particles cannot survive on the floor.
Easy to install - Installs quickly and easily by a certified installer. Or, you can do it yourself! Is simple to install with professional results.
Colorfast - keeps its color for years. It will not fade in sunlight so rearranging furniture in the room is not a problem.
This product is particularly resistant to impact and scratches. Shoes and heels are not a problem. Scuff marks are easily cleaned using the their cleaning and maintenance product. To keep your product looking new for years to come, certain precautions should be taken (just the same as you would with any good wood surface). Felt pads should be used under furniture legs and special castors should be fitted to wheeled chairs.
With the same exceptional performance characteristics and qualities of this line, you can be assured you are buying a top quality product. The introduction of this System has revolutionized the industry and offers exceptional added value. It is highly functional as well as unique. The Glueless System creates a space that is both good looking and durable. And, it can be installed in practically no time at all.
This product is very easy to maintain and is resistant to household chemicals, impacts, wear, scratches and cigarette burns. It's amazing just how little maintenance the wear surface requires! Their special cleaning product makes the maintenance required even easier to keep the wear surface looking like new for years.
Spills such as sauces, jam, drinks and food can be wiped away using a clean dry cloth and the Maintenance Cleaner. A burning cigarette falling on the wear surface will not leave a mark. Stubborn stains are easily removed with a little acetone. Everything else - just dust mop or vacuum. Cleaning is that easy!
For the best cleaning results and the ultimate in protection, long life and appearance, they recommend their cleaner. Because it has a special composition, cleaning it with our cleaning product also gives it an anti-static treatment.