Armstrong Laminate Flooring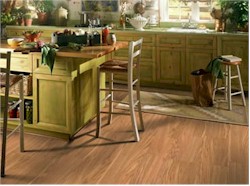 Armstrong Laminate Flooring has an eerie ability to visually duplicate the appearance of natural materials, with a trouble-free surface that resists spills and guards against stains, fading or abrasions. Armstrong Laminate Flooring comes in a wide selection of colors and styles, it is manufactured with high quality materials, and is easily installed. Some of the advantages of an Armstrong laminate flooring include:
Design Excellence
MasterWorks Technology®: Award-winning printing technology creates strikingly realistic-looking designs.
Embossed-in-Register (EIR): Realistic embossing that intensifies depth, texture and the natural look by aligning the embossing with the printed pattern. In a natural stone look, the wear surface resembles a honed stone texture; in a hardwood selection, the ridges of the wood-grain are raised and indented in a realistic manner.
Design Awards: Armstrong's Nature's Gallery®, American Duet™ and Pacific Heights™ products have won ADEX awards for design excellence from Design Journal magazine.
Installation Excellence
ArmaLock® Installation System: The strongest locking system in the industry, with a locking strength of 670 pounds per linear foot; guaranteed to not unlock at the seams for 20 to 30 years. ArmaLock makes it simpler than ever to install new interlocking floating product without glue—seams lock in place for a tight fit. Installs over most existing sub-floors, except carpet.
Lock & Fold™: A simple two-step process that makes fitting boards together even quicker and easier. [Available on 3 ½" planks in the Pacific Heights Collection.]
Matching accessories: More coordinated moldings, transition strips, stair nosings and wall base trim than any other manufacturer.
Performance Excellence
VisionGuard™: An easy to clean wear surface that protects the wear surface from stains, fading, or abrasive wear; and resists scuffmarks in normal household use.
HydraCore™: Superior performing inner core that resists surface spills or moisture from the sub-floor. It eliminates the need to acclimate the product to room temperature and humidity, normally a requirement for a period of 72 hours prior to installation. You can install this product the same day you purchase it.
Good Housekeeping Seal of Approval: Recognition of the brand's high level of quality, on many of our products.
Guaranteed Warranty Protection: They stand behind their product with one of the most comprehensive warranties in the business.
Environmentally Responsible
Many building materials release volatile organic compounds (VOCs), which are gases that can trigger allergic reactions, asthma and upper respiratory infections. All their product carries FloorScore™ certification, guaranteeing that it meets or exceeds low emission standards and will not adversely affect indoor air quality. Products with this seal have passed a third party certification process and are recognized as contributing to good indoor air quality in order to protect human health.