Anderson Tuftex Hardwood Floors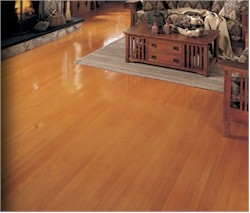 Anderson Hardwood Flooring and fine hardwoods have been synonymous for more than 65 years. And for most of that time their emphasis has been engineering plank with what they call Cross-Locked Engineered™ plies. This method of alternating the grain structure of five separate wood plies has been the backbone of Anderson Hardwood Flooring success.
Anderson Hardwood Flooring RhinoTuff® and Appalachian Black Rock® Plus,  are up to 100% harder than oak lumber. They won't buckle, and they are stain-resistant, wear-resistant, and carry a 25-year finish warranty and a lifetime structure warranty. In 1992 they became the first company to manufacture engineered pre-finished Pecan planks. Pecan became an instant best seller. Imitation and copy cat products erupted like weeds. Today they offer 3" wide Pecan planks in a choice of two profiles and 5 colors, Suede, Auburn, Cherry, Natural and Heather.
Premium floors with the exclusive RhinoPoly® finish have established their reputation as the strength and style leader in manufactured engineered planks.
With millions of microscopic aluminum oxide crystals embedded for extra protection, the finish allows them to offer a 25-year warranty against finish wear-through. Also, the Cross-Locked Engineered® construction and Eagle Tongue and Groove system assure successful installations under almost any conditions.
A new type of competition, however, has surfaced in the marketplace over the past few years. Plastic Laminate, a relatively new product category in the industry, was first developed in Europe and has now entered the American mainstream. Laminate planks consist of a printed-paper design layer usually made to look like real wood. This layer is bonded to a compressed fiberboard core and then coated with plastic resin.
This manufacturer rejects the unethical practice of providing customers with "fake" wood products. As always, they are committed to its environmentally friendly line of real wood products, which can be recycled through forest regeneration. And even the planks themselves can be recycled by merely refinishing them for a lifetime of beauty and warmth.
Real wood planks made of Maple, Oak, Hickory, Pine, Elm and Pecan should be as familiar to you as the countless city streets that are named after these trees. Their rich natural colors and handcrafted quality are what we have come to expect in American homes. Now, they have taken wood technology to a place it has never gone before – with Best-in- Class durability.
All of their timber resources are professionally managed under the Sustainable Forestry Initiative. And, upon receiving your warranty card,  this company plants a tree in your honor in one of America's Heritage Forests through the Forestry Fund. Can other manufacturers, such as carpet and sheet vinyl, guarantee renewed resources from which their products are made?