BerryAlloc Laminate Flooring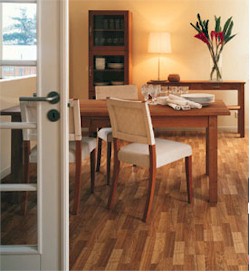 Alloc Laminate Flooring features a patented mechanical locking system that replaces the conventionally glued tongue-and-groove joint, giving it a sturdy, exact aluminum joint that will not come apart. This technology allows Alloc Laminate Flooring to offer the industry's only Lifetime, 5 Star Warranty, covering joint integrity, fading, staining, wear and moisture resistance.
Alloc Laminate Flooring locking system allows for a flawlessly aligned installation, eliminating alignment problems that exist during a glued installation. It is perfect for many various applications, and can be installed in half the time of a glued products allowing it to be installed and used in the same day!
Construction
No matter what Alloc Laminate Flooring style you choose, you can count on it to perform well and to maintain its attractiveness. With a layer of direct-pressure wood on the top and bottom, it is well-balanced and stable. The direct-pressure wear layer is manufactured with melamine resin and aluminum oxide, one of the world's most durable substances. The transparent wear layer guards against scuffmarks, abrasion, fading and stains without compromising product clarity. Its high-density fiberboard core adds to the product's durability and provides superior impact and moisture resistance. The built-in Silent System aids in a quieter sounding product. It also saves you time and money since you don't need a separate underlayment, as you would with conventional products.
This product has a patented fiberboard mechanical locking system. The tile features a direct pressure construction. In addition, it features a green, high density core that signifies the high density and strong performance of the coreboard. This product features registered embossing - a manufacturing process in which a realistic texture and gloss variation is applied to specific areas of the product to give it three dimensional appearance of natural stone.† This process gives better traction for improved slip resistance and also reduces the visibility of smudges and footprints. To create more authentic-looking grout lines - this product also features their Joint Guard - a manufacturing process with slightly recessed plank sides and ends and a natural eased edge appearance.† Joint Guard assists in protecting the edges from household traffic.
Warranty
For value and durability, this product is tough to beat. Featuring a unique, patented joint locking, this system provides strong tight joints without messy glue. Its high density fiberboard core stands up to heavy pressure and its durable melamine surface resists damage from heavy foot traffic. Plank edges are sealed with wax for excellent moisture resistance. It is backed by a 25 Year, Five Star Warranty that covers joint integrity, fading, staining, wear and water resistance.
Care & Maintenance
Itís easy to keep the wear surface†beautiful. This manufacturer provides a great-looking, durable product thatís easy to care for. Just vacuum or sweep periodically. When needed, it may be cleaned with Free & Clean. To maintain its beauty, put doormats inside the entrances to your home and place protectors under furniture legs to prevent scratches. No further treatment of the surface is required. Do not apply polishes, detergents, soaps or waxes. The residue from these agents may be harmful.
Difficult stains such as ink, shoe polish and paint can be removed by applying a small amount of acetone or denatured alcohol to a clean, white cloth and blotting the stain. Always follow the safety procedures recommended by the manufacturers of these chemicals. Never use scouring pads or steel wool to clean the wear surface.