Smith's Floor Store

About
Welcome to Smith's Floor Store
We are located in Joplin, MO United States of America. We specialize in all types of floorcovering and are the TRUE leader for your new floor needs. We are in the same location in downtown Joplin where we began over 70 years ago!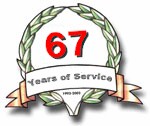 A good place to start is our selection of
brands
. We carry Appliances, Area Rugs, Carpeting, Ceramic/Porcelain, Cleaning/Restoration, Installation Materials, Laminate Flooring, Natural Stone Floors, Specialty Floors, Vinyl/Resilient, Wood Flooring, and more...
Visit our
help center
to find "how to" information, decorating tips, cleaning instructions, educational links and more.
Want to learn more about Smith's Floor Store? Click here to view the many
products
that we offer.
Call us to today at
417-623-1991
or Toll Free
800-448-2846

Visit Website

Tell a Friend

Report Broken Link

Add to Favorites

Add Rating

The DesignBiz logo, and other DesignBiz graphics and logos are trademarks of BuildBiz, Inc.
Unless otherwise noted, all other trademarks, service marks, and logos not owned by BuildBiz, Inc. and used herein are the trademarks, service marks, or logos of their respective owners.