Joyful Heart Foundation rolls out Karastan red carpet for star-studded fundraising event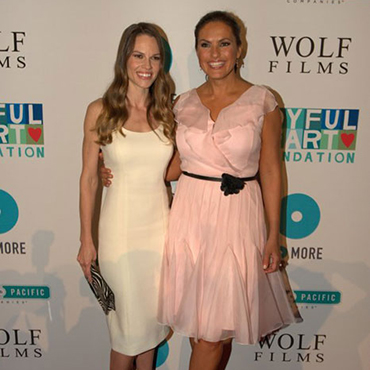 Karastan's luxurious red carpet set the stage for one of New York's most glamorous and meaningful fundraising events. Some of the biggest names in film and television gathered at the Museum of Modern Art in May for the fifth annual Joyful Heart gala. Founded by actress Mariska Hargitay, who stars in NBC's Law & Order: Special Victims Unit, the Joyful Heart Foundation works to support and empower victims of sexual assault, domestic violence and child abuse. "It is always a privilege to partner with the Joyful Heart Foundation and donate Karastan's red carpet for the organization's gala event," said Elise Demboski, vice president of creative services, Karastan. "It brings our hearts great joy to know that Karastan can play a role in advocating for victims of domestic violence and abuse. Both Karastan and Joyful Heart believe the home environment should be a healthy, happy and beautiful place."
The theme of this year's Joyful Heart gala was "Rise Up For Children And Teens." Groundbreaking campaigns, including one aimed at preventing child abuse and neglect in Hawaii, were spotlighted. The event also honored powerful teen heroes and lifelong ambassadors against violence.
More than 500 people attended the 2012 Joyful Heart gala, including Glenn Close and Hilary Swank who served as dinner hosts. Legendary singer and American icon Harry Connick, Jr., performed, and comedienne and actress Ali Wentworth won over the crowd as this year's emcee. Other celebrities on hand for the fundraiser included Christopher Meloni, Debra Messing and Gloria Reuben.
The 2012 Joyful Heart gala netted $1.6 million for the non-profit organization.
PHOTO CAPTION: Hilary Swank, Mariska Hargitay; PHOTO CREDIT: Michael Parmelee, courtesy of the Joyful Heart Foundation About Karastan
Karastan® is part of Mohawk® Industries, a leading supplier of flooring for both residential and commercial applications. Mohawk offers a complete selection of broadloom carpet, hardwood, ceramic tile, laminate, stone, vinyl, rugs and other home products. These products are marketed under the premier brands in the industry, which, in addition to Karastan®, include Mohawk®, Columbia, Dal-Tile®, American Olean®, Quick-Step®, Lees, Bigelow and Durkan. Mohawk's unique merchandising and marketing assists in creating the consumer's dream. Mohawk provides a premium level of service with its own trucking fleet and more than 250 local distribution locations.
http://www.karastan.com/
---