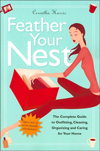 Keeping house is an art that many of us have lost. With more of us working long hours outside the home and spending less time within it—mainly chasing after kids or crashing out on the couch—we don't have time to make the bed, let alone polish the silver. And yet we love our homes and want them to be comfortable, clean, and safe—we just need someone to tell us how.

Cerentha Harris, herself a harried working mom, offers practical, stylish strategies for cleaning and caring for the home. She understands the concerns of today's readers. Her tips are time saving and easy to follow, and whenever possible they're environmentally sound: Instead of relying on expensive, and perhaps harmful, chemicals, Harris shows us how to tackle the toughest of home tasks with earth-friendly cleansers and a bit of ingenuity and elbow grease.

For anyone who has ever wondered how to decorate on a budget; wash a feather-filled duvet; baby-proof, pet-proof, or burglarproof; sanitize the kitchen and deter pests; clean textured wallpaper (bread works best); or otherwise make their home stylish, cozy, and truly their own, Feather Your Nest is an indispensable, delightful companion.