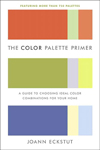 An ingenious and foolproof guide to decorating with color by one of America's foremost color and interior design experts.

Color is the backbone of decorating and comes into play in nearly every decorating decision. But decorating with color can be intimidating, even for professionals. There are so many decisions to be made—about wall colors and window treatments, sofas and throw pillows, floor stains and rugs, bathroom tiles and towels, even the colors of a flower bed. The result is that many of us—designers included—fall back on boring but safe shades of whites and neutrals. Joann Eckstut, one of America's foremost experts on color, has devised a system for choosing the most harmonious color combinations in The Color Palette Primer, featuring more than 800 error-proof palettes.

Each page focuses on a single dominant color, with three distinct palettes that contain the dominant color alongside an accent color and a neutral secondary color. This system allows readers to locate the one color they know they'd like to use (or that they're stuck with!) and see three very different uses for that color. Instead of photographs, which date quickly, there are eight iconic line drawings throughout showing vignettes of rooms (upholstery, window treatments, walls and moldings, etc.) and how the given palettes look in these contexts. All of the colors correspond to paints that are available nationally.

For everyone intrigued by the endless possibilities of color, but fearful of creating a decorating fiasco, this is the foolproof solution.

In The Color Palette Primer, you'll find perfect color combinations for every situation—whether you're starting from scratch or coordinating with existing colors. You'll need this book if you are:

• Painting your house—inside or out
• Buying or reupholstering furniture
• Renovating a kitchen or bathroom
• Adding decorative accents—from lampshades to throw pillows
• Buying new bedding
• Planning a flower bed
• Choosing bath towels
• Picking out a carpet or rug
• Staining your floors
• Adding window treatments
• Deciding on a new china pattern or table linens
• And much, much more!

Every color in this book corresponds to a paint color from a national brand. At the end of each section, you will find a page identifying the paints by brand. Here is the key to the brands:

• BM-CC Benjamin Moore Color Classics
• BM-CP Benjamin Moore Color Preview
• GL Glidden
• PL Pratt & Lambert
• RLP Ralph Lauren Paint
• SWC Sherwin Williams Color
• SWCA Sherwin Williams Color Preview
• SW-MS Sherwin Williams–Martha Stewart

Color Viewer
This neutral gray viewer allows you to see a palette on its own without the influence of the other palettes on the page or the white of the page around it. Once you find a palette you like, all you need to do is to place the viewer on the chosen palette so that it blocks out the white space around it.