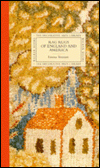 Rag rugs were made by women, now mostly unknown, from the remnants to hand in their daily lives. The best designs were those inspired by nothing more than the view from the maker's window, and fashioned into a rug with scraps of worn-out children's clothes or husband's breeches or old flannel petticoats.

This book looks at rag rug-making throughout the last two centuries, describing the basic home-made apparatus of hooks and wooden frames, the patient, repetitive techniques employed by the rug-makers and their often astonishing results.

Some designs are crude, others fastidious and fine, some colours are sombre, some bright. Subjects range from abstract geometric patterns to ships at sea to the family cat. In all cases, however, the rugs brought colour into austere and improverished homes and their manufacture occupied long winter evenings of rural isolation.