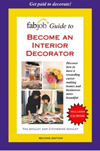 As an interior decorator you will have a rewarding, high-paying job that lets you use your creativity to make homes and businesses more beautiful and comfortable.

As long as you have the desire, you can become an interior decorator. No special education or experience is necessary to break into interior decorating and succeed. (Unlike becoming a certified interior designer which has strict requirements including two to five years of post-secondary education in interior design.) You can start interior decorating and become an interior decorator immediately.

If you would like to be paid to decorate homes or businesses, the FabJob Guide to Become an Interior Decorator is for you! In this book you will discover how you can get started and succeed in the exciting career of interior decorating.

This FabJob guide focuses on information that is difficult to find elsewhere – how to get hired as an interior decorator. However, if you also want to learn interior decorating, this guide can save you many hours of research time, because it includes step-by-step interior decorating instructions. The book explains how to get hired as an interior decorator with a retailer, home builder or other industry employer. It covers how to find job openings, prepare a resume and portfolio, and do well in an interview.

It also provides step-by-step instructions on how to start an interior decorating business, set your fees, find clients, and get discounts of up to 50% on furniture and materials. The CD-ROM that comes with this book includes sample forms, checklists, furniture cut-outs, etc., plus links to interior decorating resources (including many free resources).