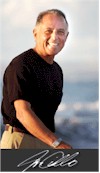 What would you do with two extra hours a day?
What would you do with two extra hours a day?
By: author Joe Cirillo, nationally recognized organizational and time management expert
Are you constantly chasing time? Do you often find yourself asking; "Where did the time go or how can I find more time?" Well, guess what? You can have more time and it's easier than you might think. Time is your richest natural resource. It's what you choose to do with it that is important, and if you use your time wisely, you will be more successful, relaxed, confident and happy.
The answer is locked in your home and workplace, where two hours of productive time are wasted every day through disorganization and clutter, causing stress, pressure and tension. Have you occasionally been guilty of not being able to find the car keys, sunglasses, reading glasses, file folders, TV remote, telephone handset, cell phone? Do you recall trying to find your favorite blouse, pants, sweater, belt, or jacket? None of this is a result of short-term memory loss. It's a result of disorganization and CLUTTER! How do you overcome this dilemma? First by accepting that it exists and second by committing to eliminate clutter and disorganization, thus taking control of your time.
Time is free, a gift, given to all of us at birth. It's yours. You own it. It's priceless. Think of time as a resource like oil and electricity, it can be harnessed and stored, ready for distribution when you need it. And, while we all know you can't buy time or add two more hours to your already busy day, you can get back two hours of wasted time by getting organized and clearing the clutter in your home or office. And in today's fast paced society, there are numerous ways to get things done more efficiently – like ordering organizational supplies online for instance. Getting organized doesn't have to be a daunting task – in fact, it can be a fun and motivational experience that will gain you up to two extra hours a day.
The first thing I tell people who are looking for those wasted hours is: Believe it or not, your time may be hiding in your closet or in your overstuffed cabinets. It's time to find it and harness it. Part of the solution can be found in online catalog companies like Home Decorators Collection. Firstly, ordering online will save you time! It's convenient, and Home Decorators Collection is a great website with many choices. I often suggest that people shop with a theme in mind, like "dual purpose" for instance. The following items have dual functions. And, believe me when I say they can change your life over night. These ideal storage ideas will help you get your time under control by clearing some overwhelming clutter.
Dual Purpose Items:
1. Hall Tree Storage Bench: perfect for the entryway or mudroom, use it to store hats, jackets, boots, umbrellas and more.
2. Multi Purpose End Tables: an attractive way to store everyday books & magazines. Options: Santa Fe Trunk End Table, Craftsman Trunk End Table, Leather Library Book End Table, Open Hawthorne End Table, Mission End Table, Simpson Magazine Rack End Table.
Bathroom:
3. All purpose Space Saver: conveniently fits over the toilet; stores toilet paper, tissues, towels, etc.
4. Madison Wall Cabinet: stores toilet paper, facial items, towels, etc.
5. 3 Hook Towel Rack: keep those towels from piling up in the corner or over the bathroom door.
Closet:
6. Double Hamper: save time by separating your bright and white clothes, that way you can easily throw your load in the washer without having to waste time sorting through clothes on laundry day. One touch – one time.
Living room:
7. Delmar Classic Double Window Seat: this item features a lift lid for storing photo albums, magazines and keep sakes.
8. Storage Ottoman: features a lift lid for storing magazines, coffee table books, knitting supplies and an extra throw blanket, etc.
Kitchen:
9. TV Video Pole: Save counter space and get that TV or stereo system off the counter. The less clutter you have on your counters, the more you will enjoy preparing a quiet meal at home.
Remember, time is not managed in the abstract; time is managed through organizing your home and workplace. When your home and workplace are organized, your time and life are managed and you will wake up every day with a smile on your face.
Joe Cirillo is a nationally recognized organizational and time management expert. He was interviewed by O Magazine and has been featured in Essence Magazine and on Success Radio to name a few. He lives in Sun Valley, Idaho where he is currently releasing his second book My Italian Cookbook, original family recipes brought over from Naples, Italy. To find out more about Joe Cirillo and his best selling book, It's Your Time, visit his website at www.joecirillo.com.
Views: 1