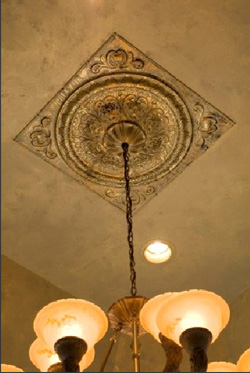 Call
Tel: 717-739-1088
Fax: 717-739-1089
Write
Valley Tin Works Inc.
4685 Shafers Church Road
Glenville, PA 17329
United States of America
Online
Valley Tin Works is the only company in North America that specializes in the installation and restoration of tin ceilings. Chris Plummer has worked for fifteen years as a faux finisher specializing in tin ceilings and architectural metalwork, and has built up a knowledge of decorative metal matched by few, if any others, in the field. Valley Tin Works was founded in 2004 with the goal of bringing this knowledge to the general public and producing the best quality metal ceilings, backsplashes, and artwork that the market has seen in decades. We were the first company to market hand-painted finished tin ceilings, and we continue to push the envelope with our creative applications for decorative metal.

Our Mission Statement
Valley Tin Works strives to offer a product of time-tested elegance with modern sensitivity while promoting the rejuvenation of tin ceilings as an important North American architectural design feature. As a highly specialized company, we approach each project as a work of art using only the best materials and never compromising quality or service. Recognizing that the expertise of our staff, along with their pride in work, job satisfaction and camaraderie are integral to our success as a company, we provide an environment where ownership and personal investment guide each and every project that we do.

Our Guarantee
We offer a lifetime guarantee on every installation that we do barring any unforeseen structural failure resulting in circumstances beyond our control (if, for example, if a tree falls through your roof). Our guarantee covers structural integrity (when applicable) as well as our hand-painted finishes. All of our finishes are properly primed and coated so that, under normal conditions of wear, they will not rust, flake, or chip the way most powder-coated finishes will.