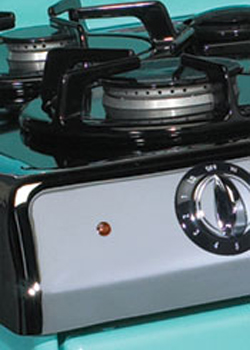 Call
Tel: (519) 669-1281
Fax: (519) 669-1774
Toll Free: 800-295-8498
Write
Elmira Stove Works
285 Union Street
Elmira, Ontario N3B 3P1
United States of America
At Elmira, our connections to antique appliances date back three generations. Years ago, my grandfathers hardware store supplied woodburning cookstove parts to local Mennonites. My father began producing cookstoves in the 1970s, using designs from the 1800s. In the eighties he introduced gas and electric models with traditional styling, along with some of the modern features we offer today.

We are constantly upgrading the performance of our products, yet we remain committed to maintaining the authenticity and craftsmanship that set us apart. Each Elmira appliance is handcrafted to your unique specifications a reflection of your individual taste and cooking style. Our products stand alone for state-of-the-art performance, along with nineteenth-century elegance and charm.

Our business and products bring back many memories for us. We hope they will bring back warm memories and begin creating new ones for you and your family.
---