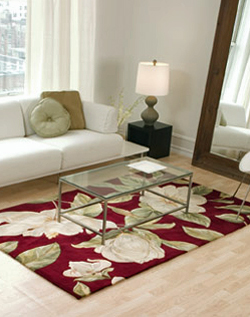 Write
KAS Rugs
62 Veronica Avenue
Somerset, NJ 08873
United States of America
KAS Oriental Rugs, Inc. is one of the rug industry's leading supplier of imported handmade and machine-made rugs. KAS was founded in 1981 by Rao Yarlagadda and his wife Kas. KAS started as a small importer selling Indian Dhurries and quickly became known as a forerunner in color and design trends. Being a family business, KAS has retained a small company atmosphere while building an infrastructure to support its growing sales. Over the last 23 years, the company has valued every relationship and has given personal attention to each and every customer. This, coupled with extensive product growth, has supported KAS' leading position in this market, now servicing customers in every category of floor coverings and all channels of distribution throughout the United States.

KAS maintains permanent showrooms at the company's corporate headquarters in Somerset, New Jersey, at America's Mart in Atlanta, Georgia, and at the International Home Furnishings Center in High Point, North Carolina. KAS also maintains a permanent showroom in the Textile Building in New York City in order to service the domestic floor coverings market and the demand for accent rugs. The company also presents bi-annual product introductions and new design trends at the World Market Center Pavilions in Las Vegas, Nevada. KAS' permanent showroom in Las Vegas will be ready for unveiling in 2008.

KAS carries over 40 different collections of fine handmade and machine-made rugs, covering a range of low to high-end price points. Sizing ranges from scatters to larger room sizes. The company introduces new colors and designs at every market and continues to create fresh and innovative looks with new product constructions. You will find looks to suit all your lifestyles varying from traditional or elegant designs to bold contemporary patterns to casual or outdoor styles. You can always count on KAS to present the most unique constructions while keeping up with the latest trends in color and fashion. KAS' product line consists of a wide selection of constructions and qualities of rugs from India, China and Europe including: Handtufted, Handhooked, Hi/Lo, Scatters, Wool, Silk, Acrylic, Bamboo, Jute, Sisal, and unique combination weaves.
---