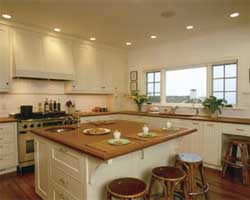 Richlite Company, a manufacturer of paper-based countertops, offers a collection of warm and natural-feeling surface materials that breathe new life into the kitchen, bath and office.
 Richlite's® unique paper surfaces bring a soft and comfortable ambience to a room that's rarely achieved through cold, hard stone and plastic solid surfaces.
 It's made from environmentally sustainable resources and is an attractive, durable, long-lasting material that complements a variety of design tastes.