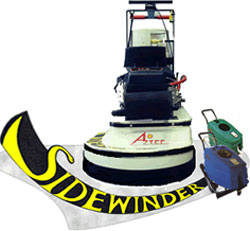 When investing in your next commercial floor maintenance machine, look for products that will save you time, money, and labor. You'll find that Aztec Products floor maintenance equipment delivers on all three. From our concrete floor grinding and polishing machines to our floor stripping machines and refinishing machines, each is designed and built as a rugged piece of equipment that will be durable enough to last for years and powerful enough to help you clean better than the competition.
The speed of equipment like our floor buffing machines will help you see a significant savings on labor while the efficiency of equipment like our floor cleaning machines will allow you realize a substantial savings on chemical costs.
Unlike other commercial floor maintenance equipment companies, Aztec manufactures products that are the solutions to our customer's wants and needs. Get more work done with fewer people and finish floors that have never looked better with Aztec Products.