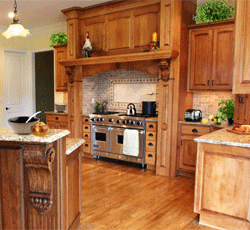 Koch & Co., Inc. was founded in 1989 by Jim, Dan, and Fred Koch as a kitchen cabinet, interior and exterior door manufacturer. The focus of the kitchen cabinet division was to produce a quality semi-custom product at an affordable price point. The decision to make this the Koch "niche" provided the impetus for the growth of the company.

Today, Koch & Co., Inc. employs 300 personnel manufacturing cabinets, custom wood doors, and the Formanek exterior door, maintaining the tradition and craftsmanship of the Koch Family. Koch & Co. is also proud to be a pioneer in the "Green" movement with the introduction of Koch Green Doors and Koch Green Cabinets.

Koch Cabinets has over 140 dealers servicing 18 states. Due to the quality, service, and cost of the product they provide, Koch Cabinets is the most sought after cabinet line in the marketplace.

Proudly manufactured in Seneca, KS.

"Let our family create a warm and inviting place for yours."