Call
Tel: 450.420.1110
Fax: 450.420.4010
Toll Free: 877.410.GLASS
Write
ThinkGlass Inc.
1993 Lionel-Bertrand
, Boisbriand (Qc) J7H 1N8
Canada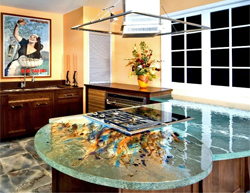 ThinkGlass has by far the most versatile process of the whole castglass (thermoforming) industry.
Our unique molding process enables us to create new or repetitive textures at a very low molding cost.
ThinkGlass can create filled glass slabs unconstrained by thickness requirements. This is unique and opens a myriad of creative possibilities.
ThinkGlass uses state-of-the-art electric ovens —all custom-made— to satisfy the requirements of our unique production process. Our fourteen ovens fulfill a vast number of needs and provide us with the flexibility needed to efficiently schedule and produce all possible endeavours, from small to large, and from simple to complex.