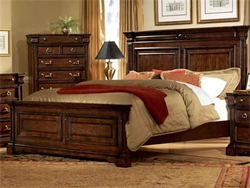 During the 1930's, Vaughan was selling complete bedroom suites for as little as $24.95. In 1954, the lowest priced bedroom suite sold for $69.95. The suite included a double dresser, chest-of-drawers, tilting Venetian plate glass mirror, bookcase headboard and panel footboard. Two higher priced suites were competitively priced for $79.95 and $89.95.
During the mid-1950's, when Taylor's son George was elected president, improvements were made in manufacturing and efficiency. By 1964, Vaughan orders had doubled and so had the manufacturing space. In the years that followed, through 1997, the company continued to grow and acquire manufacturing plants at a rate that may never be seen again.
John Vaughan was the company's fourth president. For John, style, quality, integrity and a strong partnership with dealers were the guiding principles of doing business. Now, the third generation of family management continues the traditions of the founders. Bill Vaughan was elected the company's fifth president in 1995. Taylor Vaughan was elected the company's sixth president in 2007 and today serves as Chairman, President and CEO.  David Vaughan is Senior Executive Vice President, Michael Stevens is Senior Vice President Administration/Imports & Secretary, Roger Porter is Senior Vice President of Sales, and David Miller is Senior Vice President of Merchandising.
Through rapid growth and expansion, the Vaughan family of skilled craftspeople have always been at the heart of the company. Vaughan Furniture Company remains committed to its fellow employees, its customers and to delivering a quality product at value pricing. 
Vaughan employs a sales force of approximately 55 and maintains a distribution to more than 3,000 dealers, internationally.  An approximate 28,000 square foot showroom in Plaza Suites (PS-210) in High Point, North Carolina, serves as the primary display location for product, shown twice each year, at the Spring and Fall Furniture Markets. As a complete resource for bedroom, youth, dining room furniture, entertainment units and occasional tables, Vaughan looks to the future with revitalized optimism.