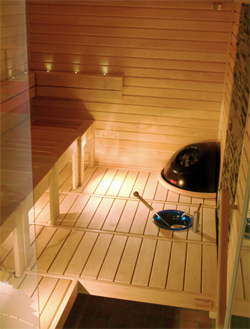 The decision to reward yourself with a sauna goes hand in hand with choosing helo®.  helo® is the oldest name in sauna and steam bathing-beginning in Finland more than 80 years ago.  Since arriving in the U.S. more than 40 years ago, more American architects have specified helo® than any other brand. 

helo® has become the world's largest sauna manufacturer through innovation, product development and an uncompromising commitment to quality.  helo® saunas, at first glance, are very impressive; they become even more so upon careful examination.

Careful thought has gone into every aspect of helo® saunas and this is the basis of helo® quality.  It means superior value and years of satisfaction delivered in the name of relaxation and good health.

Now is the perfect time to enjoy the finest saunas available.  Whichever sauna package you choose, you'll enjoy the quality only found in helo®.