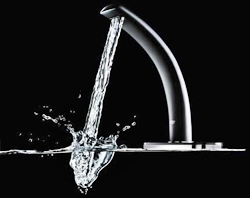 GROHE entered the U.S. market in 1975 with a faucet line that looked and functioned differently than most domestic faucets available at the time. GROHE's unique products initiated an industry movement that has since reshaped the design and quality of American kitchen and baths.

GROHE today is recognized as one of the leading faucet brands used in custom homes and upscale remodeling projects. Innovations such as pull-out spray kitchen faucets, solid stainless steel kitchen faucets, single hole centerset lavs that replaced traditional American 4" configurations, and thermostatic shower safety valves are just a handful of the European concepts brought to the U.S. by GROHE. Engineered in Germany, GROHE products sold in the U.S. comply with domestic codes and standards.

GROHE has a long history and reputation for "craftsman-caliber" manufacturing... a reputation maintained today through ultra-modern robotic production techniques that are combined with time-honored hand crafting skills to insure consistent quality at each stage of the manufacturing process. Solid cast brass fabrication... long lasting PVD finishes... engineering to incredibly close tolerances... life testing and 35 quality assurance checks... GROHE has set the standard to which all others are compared.

But where any manufacturer can make quality claims, GROHE was the first international faucet manufacturer to be ISO (International Standards Organization) 9001 Quality Assurance Certified. ISO 9001 required an independent audit and inspection of all GROHE quality systems from manufacturing to customer service. ISO 9001 Certification insures that GROHE maintains a continuous loop of planning, execution, assessment, and improvement of all products and systems within the company.

GROHE is the largest faucet manufacturer in Europe, and ranks among the top three faucet manufacturers in the world. Truly international in scope, GROHE distributes in over 130 countries. The U.S. subsidiary was established as GROHE America, Inc. and is based in the Chicago metropolitan area. GROHE America is the center for all GROHE U.S. customer service, technical support, sales/marketing, warranty service, warehousing, and distribution to all 50 states, Mexico, Puerto Rico and the Caribbean.