Call
Fax: (912) 264-5313
Toll Free: (866) 232-6313
Write
Waverly Wood Flooring
5894 New Jesup Highway
Brunswick, GA 31526
United States of America
Online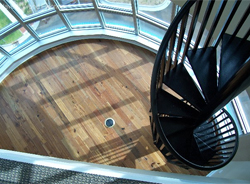 Where do we get it?
We obtain our timber from dismantling old commercial and industrial structures that are slated for demolition.- - old sawmills, graineries, wharfs, canneries and warehouses. Much of the timber in these structures was originally harvested in the 1800's and early 1900's.

Why do we reclaim or salvage old wood?
Wood is one of the most re-usable materials available anywhere and it can be manufactured into a multitude of products. The use of reclaimed material prolongs the usable life of the timber that was cut from huge virgin old growth trees during the last century. This reduces the pressure of cutting our current precious forests.

Recycling wood is a key component of preserving our limited inventory of forests. Wood is renewable, however it is a very slow process - so why not reuse one of the most reusable materials available.