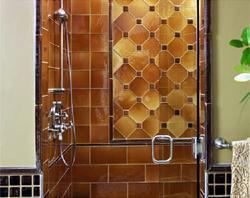 For Valerie Saint-Gaudens, necessity has always been the mother of her many inventions.  When she was a teenager and unable to afford the silver jewelry she loved, she learned how to make her own. She combined her love of drawing and sculpture with her passion for jewelry, creating pieces with intricately carved settings. This led to a line of sea-themed jewelry, and a happy career designing custom jewelry and wedding rings in gold and platinum.

Necessity arose again when she was designing a remodel of her home in 1998.  The foyer tile needed accent pieces, and nothing at all existed in the market.  The idea for a sculpted bronze tile came to her as she dreamed of carved acanthus leaves in verdigris patina between her tiles.  She carved her first tile design in jeweler's wax and her husband Ken cast it for her in their jewelry-making workshop. Solid bronze tiles are so much like jewelry - carved decorative metal - that Valerie easily moved into this new design realm. Her knowledge of gemstones enabled her to add semi-precious stones to her tiles.

Very quickly the line grew - she was featured in San Diego Home and Garden Lifestyles Magazine, and in a Designer's Showcase home.  Together, she and Ken created one of the first solid bronze tile collections in the world.

In 2004, Valerie ventured into the world of glazed handmade ceramic tile with the Balboa Collection: tile combined with sculpted bronze overlay designs. Her latest interest is glass tile, beginning with the Avalon Collection of art glass tiles in 2007.

In 2005, Valerie was invited to design a line of door hardware for Trimco, a Los Angeles maker of commercial, hospitality, and residential hardware.  Bearing the Saint-Gaudens name and made of her signature solid bronze, it is shown at all Expo Design Center - by Home Depot - stores.

Everyone at Saint-Gaudens, from the bronze finishing experts to the shipping department to the office staff and management, are working hard to help you realize you own beautiful dreams.