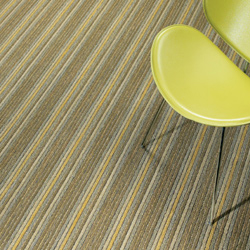 Fortune Contract, Inc. was founded in 1995 and is based on the concept of providing high quality carpet backed by attentive customer service. The management team has a commitment to the design and manufacture of product with both aesthetic and structural integrity. We understand both the technology of manufacturing as well as the fine art of making a carpet work within a project scope.

The product line focuses on the finest quality cut and loop carpet patterns with an emphasis on textural interest. Available in both broadloom and tile, we manufacture with the highest quality premium branded fibers including nylon 6,6, nylon 6 with recycled content, solution dyed nylon and wool. Combining texture, form, balance and color, we create high quality carpet with excellent performance for the contract, retail and hospitality markets.

Our running line product offering is integrated around a core palette of 145 solid and barberpole yarns. Broadloom products are backed with premium ActionBac which results in outstanding performance over the life of the carpet. Tile products come with PVC-free recyclable backing with 40% recycled content. All carpet products are backed by a ten-year limited warranty.

The Fortune Contract Development Department is supervised by a quality, knowledgeable staff. Carpets can be specified in a myriad of patterns, custom colors, backing and fibers depending on your specific project needs. We enjoy the ability to provide custom patterns and colors for remarkably low yardage requirements that truly redefine the term custom. On-site sample equipment that closely duplicates production allows for quick turnaround of strike-offs to produce carpets to order with exacting specifications. Our skilled design team translates our client's colors and patterns to create high quality carpet products.

Fortune Contract is committed to the progress of sustainability. Internally, our streamlined operation facilitates maximum flexibility with minimum waste. We participate in the CRI Green Label Program to certify low emissions in our carpet and adhesive products. We produce high quality goods with outstanding performance to extend the life of our carpets and strive to improve practices in our facility to manufacture as efficiently as possible. Being environmentally responsible is good business, and it's right for our company and employees.

We have the goal of being the most responsive provider of products and service possible. We believe in personal attention to the details that fulfill the vision of your project. You are sure to find that we at Fortune Contract have a more personal approach to your satisfaction. We promise quick, clever resourcefulness in attaining our goal of making carpet to meet the needs of our clients. It's our personal guarantee and the results are visibly different.