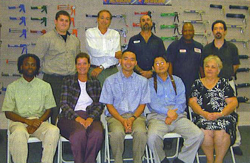 Newborn has been providing quality sealant and adhesive dispensers and accessories since 1974. Our mission is simple: To provide innovative products engineered to last and make dispensing and applying sealants and adhesives easier.

We accomplish our mission by continuously listening to the feedback of everyone including endusers, distributors and manufactuers in multiple industries such as waterproofing, restoration, concrete repair, painting, glazing, automotive, aerospace, military, solid surface, fire stopping, DIY...the list goes on.

It is our desire to solve any issues, seen or unseen, based on this feedback as well as our expertise and knowledge, to be the leader in innovation and improvements to dispensing technology and to provide only the best quality that will guarantee to keep you at the forefront of your respective industry.