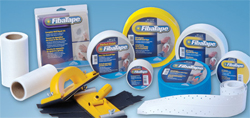 Saint-Gobain Technical Fabrics' (SGTF) parent company, Saint-Gobain, was founded in 1665. Through strong ideas and strategic partnerships, Saint-Gobain expanded its expertise to over 55 countries. Working with leading companies in several business sectors, Saint-Gobain has emerged as the world's largest building materials firm.
  Each of Saint-Gobain's 206,000 employees shares a commitment to outstanding customer service and product innovation. In fact, Saint-Gobain invests over $541 million annually in R&D and files more than 260 new patent applications each year. 
 Like Saint-Gobain, SGTF is achieving new levels of success, mainly through its multiple technology platforms, which it offers "all under one roof." This serves as the basis for its unique product offerings and custom-made solutions.   From fabric creation to lamination to our unique coatings, SGTF offers comprehensive, thoroughly engineered, highly innovative, customized solutions.
  
Retailers can take advantage of the same product advancements and quality that have made SGTF such a valued resource to industrial manufacturers for centuries.