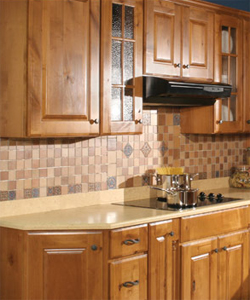 Woodland offers many options to choose from in the construction of the cabinets. Popular construction options are plywood sides, flush sides, stained wood sides, raised panel ends, mullion doors, stained wood interiors, etc. Many manufacturers have cut back on the cost of the raised panel doors by building them with paper thin veneers over particle board, or using thinner center panels. You can be assured of top quality at Woodland. We only manufacture raised panel doors with ¾" thick solid wood.. Our flat panel doors use full ¼" thick center panels. Many other manufacturers have cut back to save money on these types of doorstyles. Woodland uses only the finest raw materials to build our fine custom cabinetry. We strive to offer the best value in the industry. If you require more detailed technical information on Woodland products, please contact your dealer or the factory.
3/4" MAPLE DOVETAIL
Woodland's top of the line drawer box. The ¾" thick maple sides with the ¼" bottom dadoed into the sides, is the finest drawer box in the industry. Woodland then attaches a full extension slide for full access to everything in the drawers. A soft close feature on this slide eliminates the noise of traditional slides and gently cushions the impact of the drawer when it is closed. 100 lb. capacity. Lifetime warranty.
1/2" MAPLE PLYWOOD
Woodland offers a ½" maple plywood dovetail drawer box, with a ¼" bottom dadoed into the sides. This drawer offers the strength and durability of a dovetailed drawer, but with a more affordable price point. The plywood material is stronger than solid wood. This drawer box offers more interior storage space because of the ½" thick sides versus other drawer boxes using 5/8" or ¾" thick drawer materials. You have the option of choosing a concealed full extension slide, or concealed full extension slide with soft close on this drawer box. 100 lb. capacity. Lifetime Warranty.
1/2" VINYL DRAWER BOX
Woodland's standard drawer box has ½' thick furniture board sides with "Easy Clean" vinyl protector. A ¼" thick bottom is fully captured with ¾ extension sidemount slides. 100 lb. capacity.
3/4" SHELF
Woodland offers a 3/4" thick shelf with our "Life Edge" 2mm PVC shelf banding. This offers a unique rounded look and is much more durable in everyday use.
6-WAY ADJUSTABLE HINGE
Woodland's 6-way adjustable hinge allows easy adjustment for vertical, horizontal and depth adjustments. A simple turn of a screwdriver lines up doors making installation easier and faster.