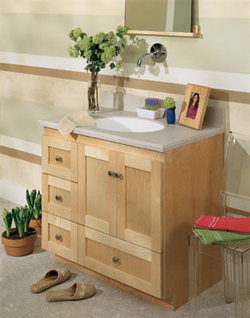 Vanity Tops
Simple, stunning and seamless. A wide array of trademark colors and artisan crafted vanity tops, bowls and back splashes give life to any bath. Fully customizable, easily renewable and completely unique.
Bath Furniture and Vanities
Sophisticated furniture for the bath. Innovative designs integrate multiple materials, including metal, natural wood, Transolid® solid surface and Natural Quartz. Completely customize your bath with a Transcendence furniture piece.
Shower and Tub Wall Surfaces
Transolid's shower and tub wall surfaces consist of everything to give that little corner of your bathroom the same refreshing recharge it provides you. There are shower pans, shower walls, tub walls, corner cove strips, optional finish trim, and shelving accessories all designed to fit the most popular sizes and styles of today's showers and tubs. They are made from durable, reinforced solid surface material and are relatively easy to install. You'll also find a wide array of colors.
Kitchen Sinks
Perfect for the family that uses the kitchen as a family room. Bowls are available in both topmount and undermount styles, are designed for all types of counter tops and are available in 23 colors in multiple designs and sizes. Offset drains create more room to stack dishes and glasses. Steep, straight walls easily handle large pots and pans. Like any Transolid product, surfaces resist heat up to 365° and stains and marks are easily removed with simple cleaning.