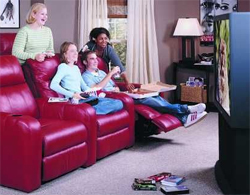 In the history of superior motion upholstery, Barcalounger has a storied reputation. In fact, we've been two steps ahead of the competition ever since the first Barcaloungers were produced in 1940. Right from the start, it's been Barcalounger's style, fashion, comfort, and quality that's led the way to success in the motion furniture industry.

Barcalounger customers have come to expect the best from the leader in motion furniture. Our plant in Rocky Mount, NC, has 365,000 square feet devoted to implementing the latest manufacturing technology and guaranteeing our customers the best production values available anywhere in residential furniture.

We know our customers want more than fine craftsmanship and deep luxurious comfort. You also want a look that says something about yourself and your home. That's why Barcalounger offers the styles and designs that turn ordinary motion furniture into plush, beautiful masterworks that complement the decor of any home.