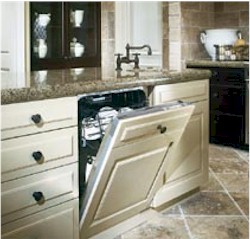 ASKO is an international corporation with a full line of high-performance washers, dryers and dishwashers. ASKO appliances do a better job of cleaning with a fraction of the water, electricity and detergent of ordinary machines. Every ASKO product is built with Scandinavian quality and environmental sensitivity, so they are some of the best-performing, most ecology-friendly on earth.
Improving ASKO dishwashers was a pretty tall order.
ASKO has always gone to great lengths to design, engineer and build the highest quality dishwashers in the world. Now we've raised the standard again with our next generation designs. Like every ASKO dishwasher before them, our new tall-tank models out-clean ordinary units while using far less water and electricity. They're super-quiet, dependable and backed by the most highly regarded warranty in the industry. ASKO dishwashers also have the most user-friendly control systems to choose from. Plus, ASKO holds 20% more than most—which means fewer loads and more water and energy savings. And style? We've got the widest selection on the market. No wonder ASKO dishwashers stand head and shoulders above other brands.
The real world calls for life-sized laundry solutions.
When ASKO does the laundry, you get outstanding results, plus you also get something extra. ASKO Washers and Dryers are designed to clean like no other, all while using less electricity, water, and detergent too. With features such as stainless steel drums that never rust or corrode, and our innovative self-contained water heaters for the most precise temperature control possible, ASKO sets a new standard for clean no matter which setting you choose. And every ASKO appliance is backed by the best warranty anywhere. Laundry never had it so good.