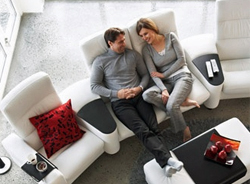 Ekornes ASA is the largest furniture manufacturer in the Nordic region and owns such brand names as Ekornes, Stressless and Svane. Stressless is one of the world's most famous furniture brands, and Ekornes and Svane are the best known brands in the Norwegian furniture market.
Products are manufactured in Norway and marketed all over the world by a network of national and regional sales companies.
Ekornes' vision is to be one of the world's most attractive ergonomically designed suppliers of furniture for the home.
Ekornes' business concept is to offer products that, in terms of both price and design appeal to a broad audience. In addition, the group aims to develop and manufacture products offering excellent comfort and functionality.
Ekornes ASA is the parent company of the Ekornes Group. The group's production facilities are organized according to its product areas: Stressless (recliners, sofas, loveseats and accessories), Ekornes Collection (sofas) and Svane (mattresses). Ekornes ASA provides all shared services, including group management, marketing, purchasing, accounting and finance, as well as product development for the Stressless and Ekornes Collections.