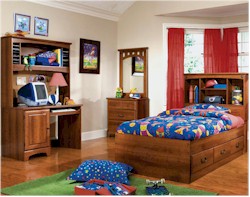 Standard brings Kathy Ireland Home Furniture to Your Home
In 2001 Standard Furniture joined forces with the business family of Kathy Ireland Home. Today the Standard Furniture Company is part of a group of over 10 manufacturers who together with Kathy Ireland develop products following her brand mission statement of "…finding solutions for families, especially busy moms." Successful as a model, actress and designer, Kathy Ireland has now applied her expertise to making the most of your home with her own line of impressive Kathy Ireland furniture.
Kathy Ireland Furniture Reflects Kathy's Strong Personal Values
Kathy's dedication to, and involvement with the product development process, her talent, vision and hard work have enabled her furniture to soar in popularity. Kathy's strong personal values, dedication to family, unwavering humanitarian convictions and entrepreneurial spirit mirror the values also upheld by the Standard Furniture Company.
Kathy Ireland's wonderful bedroom collections, dazzling dining room sets and charming occasional tables have been a big hit with our customers ever since their introduction. It's easy to see how Standard Furniture has become one of our best sellers with so many customers enjoying their beautiful furniture. Just as Kathy intended!