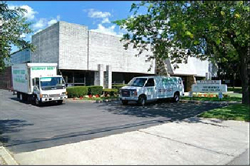 William L. Murphy, who was born in Columbia, California, near Stockton on January 1, 1876, moved to San Francisco at the turn of the century where he met his future wife. He lived in a one-room apartment that had a standard bed taking up most of the floor space. Because he wanted to entertain, he began experimenting with a folding bed, and applied for his first patent around 1900.

The "Murphy Wall Bed Company" of California came into being that year, making it one of the oldest furniture companies in America with nearly a century of continuous manufacturing and marketing.
The first of the folding beds were manufactured in San Francisco. In 1918, William Murphy invented the pivot bed that pivoted on a doorjamb of a dressing closet, and then lowered into a sleeping position - some of which are still in use today.

During the 1920's and 1930's, the popularity of the Murphy Bed was at its peak and in 1925 the company moved its corporate headquarters to New York City and became the Murphy Door Bed Company, Inc. Production was limited during World War II to replacement parts due to rationing of steel. After the war, production remained low because the returning GIs were offered low cost VA mortgages and single family homes began springing up all over the country. Individual homeowners were not interested in space saving products in this era because of their ability to buy larger homes relatively easy. In the 50's and 60's, the beds were sold primarily as a specialty item for builders. William K. Murphy, son of the founder, took over as president after serving in World War II and Korea. In the 70's this attitude changed dramatically. The recession, the oil embargoes and high interest rates fused together to change America's lifestyles, focusing attention once more on the problem which William L. Murphy wrestled with in 1900 - how to make the most of limited space.

The wall bed business again grew as families found it too costly to move to larger homes. During the 80's and 90's, sales continued to grow with the introduction of a full line of ready to assemble cabinetry and wall units changing the Murphy Bed from a built-in to a piece of furniture. Today, Clark W. Murphy, grandson of the founder, is president and has been since 1983.

Since the original wall bed in 1900, the Murphy Bed Company has taken innovative steps to improve the beds with models which include the patented counter-balancing design. This patented design gave the bed mechanisms dependability and ease of operation. The beds, which have mattress supports built into them, will accommodate a standard mattress in twin, double, queen and king sizes.
The Murphy Bed Company has bed distributors in most major cities throughout the United States. Beds are also exported regularly to Canada, the Caribbean Islands, Mexico and to all other countries when requested. If you live in an area without a dealer, the company can ship direct.
.
According to Clark ., the Murphy beds are enjoying a continual growth in the market share for specialty bedding. As people in metropolitan areas move into studio apartments, the Murphy Bed is the logical choice for a space efficient comfortable night sleep. The commercial marketplace in recent years has shown great acceptance to our Murphy Bed mechanisms in such applications as Fire Houses, Hospitals, Dormitories and Hotels. Homeowners are converting bedrooms to dens, computer rooms or home offices incorporating the Murphy Bed with entire wall systems for storage.

In January 1990, the "Murphy Door Bed Co. Inc." officially changed their corporate name to the "Murphy Bed Co. Inc.". Our corporate headquarters, manufacturing and warehouse facility are located under one roof in our modern facility in Farmingdale, NY.