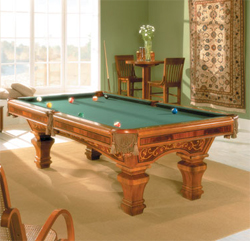 The Legend Continues
In 1845, the J.M. Brunswick Company produced its first billiard table. By 1850, Brunswick tables were known around the world as masterpieces of original craftsmanship and design. The world has changed tremendously, but the Brunswick commitment to exceptional quality remains. John Moses Brunswick's creative vision continues to thrive at Brunswick Billiards in Bristol, Wisconsin, where you'll find over a century and a half of exceptional engineering and innovative style built into every table. A timeless tribute to excellence in design and workmanship, every model is backed by a lifetime warranty and has the best resale value in the industry.
Part of the Legend
Experience our rich history for yourself. By investing in a Brunswick table, you not only own the best playing pool table in the world, you own part of the Brunswick heritage…nearly two centuries of quality products, outstanding service, and value par excellence.
BRUNSWICK BILLIARDS
Some traditions are worth keeping forever.