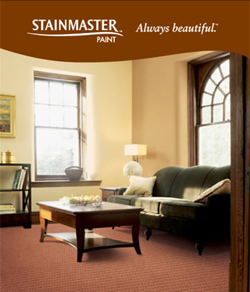 You know the STAINMASTER® brand for durable, stain resistant carpeting. A trusted brand for over 20 years, the STAINMASTER® brand has delivered lasting beauty and quality to homes and offices nationwide. Now you can get the same great STAINMASTER® brand quality in a Paint !

STAINMASTER® paints are formulated with new technology that resists and repels many common household stains. Get the lasting imppression you want with quality STAINMASTER® paints.

STAINMASTER® paint is manufactured by Insl-x Products Corporation under license agreement from Invista. Under this agreement, the formulation and manufacturing of STAINMASTER® paint is done in accordance to strict quality standard criteria to assure that  STAINMASTER® paint performs as promised.

STAINMASTER® paint is a registered trademark of Invista.