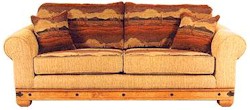 Intermountain Furniture Manufacturing Company has been producing quality furniture since 1928. The company has been managed and operated by the same family since its inception, and is one of the oldest and most stable furniture manufacturers in the United States. We are also one of the oldest continuous upholstery manufacturers west of the Mississippi. In the spirit of a proud tradition, Intermountain Furniture Manufacturing Company consistently provides unsurpassed quality, service, and value to its customers.
Our company was founded on quality and service. We believe you get what you pay for. Our furniture is not the most expensive. But it is the best value. To us, value means providing the best quality products at a reasonable cost.
Over the years we have used top designers in the furniture fashion industry. We offer a wide variety of fashions and designs to fit any taste and budget.