Write
Woodward Grosvenor & Co Ltd
PO Box 13
Kidderminster , Worcestershire DY10 1AT
United Kingdom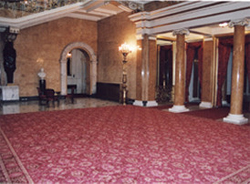 Woodward Grosvenor, established in 1790, manufactures and supplies a wide range of high quality carpets for both residential and commercial markets. A small, but highly skilled team of people ensure Woodward Grosvenor offer quality products that reflect the diversity of today's styles, spanning prices to meet most budgets.
Woodward Grosvenor has a reputation for supplying Axminster, Wilton and Tufted constructions in a range of patterns, plains, twists, velvets, naturals, cut and loop piles. You can purchase a Woodward Grosvenor carpet from retail outlets across the UK.
In addition Woodward Grosvenor specializes in the manufacturing of bespoke Wilton carpets, boasting an unrivalled design archive of over 20,000 hand painted designs.