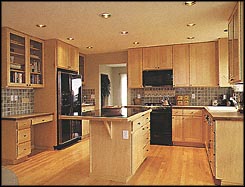 Edgewater Cabinets, a division of Plymart, Inc., is a manufacturer of semi-custom cabinetry for kitchen, bath, home office and home theater applications. Our factory is located in Boring, Oregon, a small rural community on the outskirts of Portland.

We are a family-owned enterprise specializing in old-fashioned service and value. We manufacture cabinets to your specifications utilizing only all-wood components, solid Oak or Maple doors and frames, all-plywood box parts and high-quality hardware.

We offer the most popular door styles and stain colors while at the same time limiting the choices to a manageable selection. We do this to guarantee our dealers and their customers consistent quality, dependable service, and exceptional value.
We believe that this philosophy, combined with our selection of several hundred standard components, and our willingness to make custom modifications, makes Edgewater Cabinets the preferred choice for you and your customers!