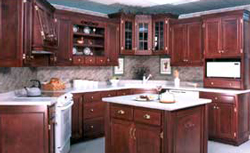 At Valley Cabinet, Inc., our family of fine craftsman transforms simple wood into masterpieces of form and design.
Valley Cabinet, Inc. is located in northeast Wisconsin where quality is a way of life. Our state of the art manufacturing facility allows us to specialize in design and building of the highest quality prefinished cabinets with attention to detail in mind. Our professional staff will provide you with personal service, everything from interior design, computerized CAD drawings, manufacturing, installation, to service beyond the sale.

When you choose to purchase from Valley Cabinet you can assure yourself of receiving the finest quality products and exceptional service above and beyond others you may find, and you will also become part of the Valley Cabinet family.