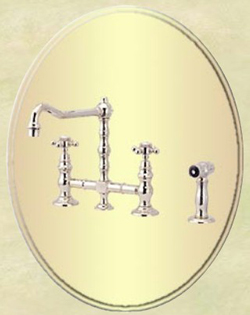 Harrington® Brass Works is recognized today as one of the leading luxury faucet brands. The company offer a spectacular collection of Victorian, Classic and Contemporary faucets and accessories that look beautiful and perform reliably time after time. Choose from over 20 finishes, including Harrington's own Perma Brass finish that comes with a lifetime warranty/ With Harrington® Brass Works, it's possible to create the bath and kitchen of your dreams.
Known for their Victorian line, Harrington® Brass Works features all the styles of beautiful kitchen and bath faucets. The Harrington nostalgic faucet line is popular with leading designers and consumers interested in recreating the classic look of days gone by.
The Harrington faucet are also the products of choice for many "old house" renovators and those interested in creating a quality vintage design with European influence.
In addition to traditional products, the company also manufactures a very exciding contemporary line. Those with impeccable style, choose Harrington for the classic good looks and traditional styles.
For over 20 years, Harrington® Brass Works has provided a quality line of brass faucet and accessories that capture the heart and spirit of today's home. In addition to faucets, Harrington offers a complete line of coordinating accessories including towel bars, towel rings, tumblers, and the increasingly popular bath basket.
Many of the Harrington designs feature classic lines and beautiful details that become the showpiece of the bath and kitchen. The product line is offered in an array of unique finishes to match even the most exotic bath decor. From polished nickel to oil rubbed bronze, Harrington has finishes that are guaranteed to keep their good looks for many years to come.