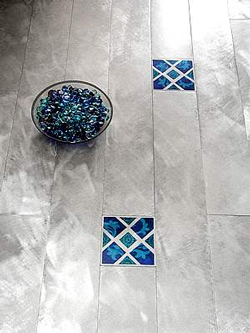 "Carina Works" is named after the spectacular Carina Nebula in our solar system where celestial stars are born, a beautiful reminder of the miracle of creation and the gift that mankind inherited in his ability to bring beauty into our everyday life.

In 1997, Libby Fenner, an artisan with a degree in music, and Charlie Foster, a glaze technician and restoration artist, founded Carina Works, Incorporated.

Fenner and Foster became aware of a need for unique contemporary hardware. They spent several years in R&D to develope a glazing process using enviromentally friendly components combining original art with a rich durable glass-like glaze on aluminum.The art and glaze are permanently fused together with the metal. Armed with endless ideas and a passion to create something beautiful and unique as well as functional, Carina Works metal cabinet hardware was conceived. After years of research and development with a huge array of materials, Carina Works hardware evolved into an extensive and diverse line of "jewelry" for the home.