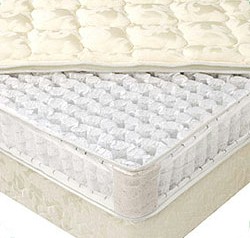 Simmons® Beautyrest®
Simmons Beautyrest® can help you and your partner wake up less, sleep more soundly, and feel more rested the next day. Not only is the Beautyrest a beautifully made bed, with soft, plush covers and comforting foam, it is also engineered to ensure the best night's rest by addressing one of the main causes of interrupted sleep—partner movement throughout the night.

Beautyrest significantly reduces motion transfer across the bed by using Pocketed Coil® Technology. With Beautyrest, the sleeping area is also maximized, so you and your partner can make use of the entire bed, from edge to edge. Try a Beautyrest—it's better sleep for the two of you.
The new Beautyrest provides a soothing tactile experience that will invite you to sink into blissful sleep. You can choose unique covers that are thick and incredibly soft, with terry or velvet-touch textures. Simmons Beautyrest can also provide you with the whole spectrum of comfort-you can customize from double extra firm to ultra plush, and know you'll get a good night's sleep on whichever comfort level you prefer. In fact, you can customize every aspect of your Beautyrest, including motion separation levels, comfort levels, detail packages, and mattress maintenance.
Beautyrest may also help you get the deep, REM sleep you need. When two people sleep in one bed, they wake up more from partner motion being transferred across the bed from normal tossing and turning (40-60 times a night). Undisturbed sleep contributes to better alertness, productivity, creativity, problem solving, energy and patience. To address this issue, Beautyrest is designed with superior motion separation, which means you are much less likely to feel your partner toss and turn.
Each spring is independent, so when one partner moves, the other partner barely feels it, if it all. Almost every other brand of mattress in the country uses open coil construction, which has been shown in laboratory settings to transfer 2½ to 4 times more movement across the sleep surface than the Beautyrest. You will feel an amazing reduction in motion transference when you and your partner toss and turn on a Beautyrest, and you can choose the level of motion separation that's right for you.
The Beautyrest is designed to provide maximized sleeping area from one edge of the bed to the other, and thus more space between partners. Most beds are crowned, so there are large zones at the edge where you simply can't sleep, leading you and your partner to crowd toward the center of the beds. Beautyrest has solved this problem with a unique construction that provides from 20% to 45% more sleeping area than other major brands. That means you can stretch out without worrying about bumping and waking your partner.