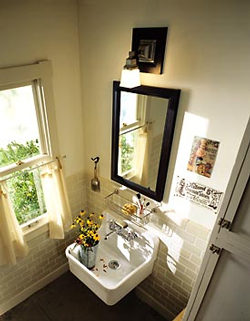 Robern, located in Bristol, Pennsylvania, was founded in 1968 and is the leader in bath storage solutions. Robern seeks to pioneer and promote the development of the personal vanity environment, by providing personal choice, stylish designs and innovative features for consumers.

A HISTORY OF PRODUCT INNOVATION
Specializing in unique storage solutions, Robern has developed products with user-friendly features that assist end-consumers in day-to-day living. Furthermore Robern cabinets offer the highest quality possible they are made of solid, aluminum framed construction that provides rust-free operation as well as durability. Over the years Robern, has driven product innovation in the mirrored bath cabinet category by introducing hi-tech features, such as internal electrical outlets and mirror defoggers. In 1995 Robern became a subsidiary company of Kohler Co., a world leader in products for the kitchen and bath.
Innovative product features that have firmly established Robern as an industry leader in the personal vanity environment include:
Interior Electrical Outlets, for the recharging of electrical devices, such as razors and cell phones.
Door Defoggers eliminate the need for constant wiping of the mirror every morning due to condensation.
Safety Lock Boxes secure prescriptions from the reach of children and protects jewelry from theft.
Mirrored interiors speed up grooming by eliminating constant closing of the cabinet door.
Lighting Solutions create a cabinet area environment that works best for the end user.
SAFESEAL™ Gasketed frame protects the user from sharp cabinet edges and prevents dirt and moisture from entering the cabinet.