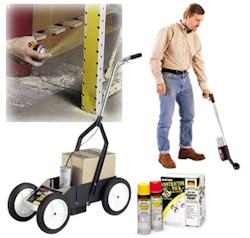 The Plasti-Kote name has been synonymous with premium quality, innovative, specialty coatings for over 75 years. Having the best products in the marketplace has enabled us to achieve this status and consistently meet new challenges.
    We have faced, and met, the ongoing obstacles presented by ever-changing regulations that would threaten aerosol paint, one of the most useful products ever invented. In fact, Plasti-Kote began developing environmentally safer aerosol paints long before it became an issue. We were the first United States manufacturer to do so and our patents for water based aerosol paints date back to 1977.
    In 1998, Plasti-Kote reached a major milestone in our history. We have joined forces with the Valspar Corporation to become an even more formidable force in the paint and coatings industry. Valspar has a long standing history of producing quality paints, stains and specialty coatings dating back to 1806. Many of the clipper ships that sailed the oceans in the 1800's were protected by Valspar marine products. Today, Valspar operates 23 plants, is the 6th largest coatings manufacturer in the United States, and a Fortune 500 Company.
    While Plasti-Kote general purpose spray paints are a large segment of our business, we continue to serve a diversity of distribution channels with a wide variety of products… from our Consumer Brands Division of specialty and decorative finishes, to our Automotive brands division serving the Automotive Aftermarket, to our Industrial Division's wide range of maintenance paints and coatings, and to our International division's wide variety of spray paints offered in many countries.
    As the world continues to become an international marketplace, Plasti-Kote products will be seen on even more retail shelves throughout the world. We are committed to establishing a world wide identity and presence, and as of 1999, our packaging serves 60 different countries in 18 different languages.
    Whether in North America or around the globe, Plasti-Kote and Valspar alike are proud of our most valuable resource… talented, hardworking people who are dedicated to the old-fashioned principle of treating our customers like friends. We are ready and eager to provide our customers, and prospective customers, with the highest quality, most innovative products and service in the world. Plasti-Kote and Valspar are perfect partners… and a perfect partner for you.