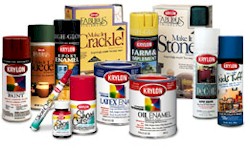 Whether you want to keep it looking new or give it a whole new look, Krylon Products Group will make your indoor, outdoor, or specialty project turn out beautifully… every time. Our quality aerosol paint products cover every requirement you might have, including high-temperature and rust prevention needs. And the possibilities are endless because you can choose from an extensive palette of eye-catching colors.
Krylon Product Group is part of The Sherwin-Williams Company, the largest paint and coatings manufacturer in the United States. Both Krylon Products Group and Sherwin-Williams have a rich history of producing beautiful, easy-to-use products. Our mission is to continue developing new, exciting products for your home and surroundings.

But Krylon Products Group is more than just paint and projects. We care about you and your community. Along with Keep America Beautiful, Krylon Products Group has created a national program called Graffiti Hurts® designed to address the growing graffiti problem in urban areas and small towns.