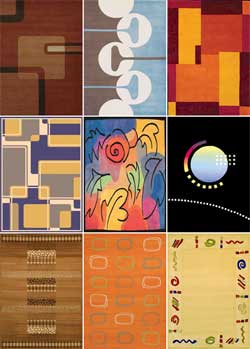 The year was 1984. In a small garage in Santa Fe, New Mexico, FOREIGN ACCENTS was born. We had visions of new contemporary design. We pictured a beautiful office, with orders coming in so fast we could barely keep up with them. At that time, it was only a dream. An idea. In 1984, oriental rugs dominated the market. Affordable contemporary rugs were a rare find. With energy and enthusiasm, Trish & Wolfgang Rempen set about changing that.

Soon we opened our own small retail showroom. By 1987, we had outgrown the space, and FOREIGN ACCENTS moved to Albuquerque. In 1998, we designed and built our own office and warehouse - just the way we had imagined it.
In January 1985 we had our first space at the San Francisco Contemporary Furniture Fair. Atlanta followed in January 1987, and finally in High Point in April 1988. We loaded our old VW van with rugs and drove to the shows. We shared booth space and houses with other exhibitors. We shared meals and ideas with our customers.

In the past 20 years, we have been able to find outstanding manufacturing partners in over 30 countries. From handmades to machine-mades, hand-wovens, machine-wovens to hand-knotteds, pile rugs to flatweaves, even rugs made from banana bark - we have worked with some of the very best, and we still do. Dealing with people from around the world has been one of the joys and challenges in this business.

FOREIGN ACCENTS has been richly rewarded for its efforts in spearheading contemporary design in the industry. At the New York Home Textiles Show, we have received the "Best New Product" award - three times! In many industry publications, FOREIGN ACCENTS has been cited as the importer who continues to set the trends in modern rugs. And why not - we love what we do!
But the best rewards come from our customers - you - and the excitement we see year after year when we present our collections. And we have truly enjoyed the friendships we have developed with many of you over the years!

For 20 years, we have sold to furniture stores and designers on six continents, and we continue to serve thousands of retailers - old friends and new - with the best contemporary design any rug importer has to offer.

To all of our customers, designers, manufacturers, and staff at FOREIGN ACCENTS -
THANK YOU FOR MAKING THE DREAM COME TRUE!