Call
Fax: 905-673-3655
Toll Free: 800-268-0989
Write
Beaulieu Canada
7420 Airport Road, Suite 200
Mississauga, ON L4T 4E5
Canada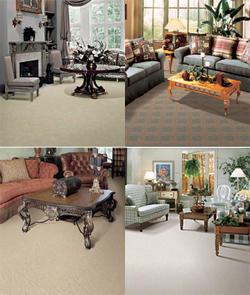 Your HomeStyle retailer offers you the most current home fashion styles, textures and colours available in carpet in the Canadian market today. With hundreds of styles and colours to choose from, we have the perfect solution to suit your needs and bring the room you envision to life, within each home décor style.
CLASSIC ELEGANCE
Saxony plush cut pile, with its dense packed yarn tufts, fine tip definition, and smooth, luxurious surface provides the sophistication and refinement to a classic formal room. Your HomeStyle® saxonies are available in polyester or nylon and a wide variety of densities and weights. A distinct feature of Saxony is that the velvet finish will show footprints and shading as part of its style effect, similar to a fine fabric.
Fresh New Ideas:
New saxony cut & loops with subtle patterns offer a unique design element to a room. The most popular are the sculptured floral vine and scroll patterns.
CASUAL COMFORT
There are over 80 styles of carpet in the Your HomeStyle line recommended by interior designers for the popular Casual Comfort décor style. Choose from level textured cut piles, whose single color pattern is created by giving some of the tufts added twist that reflect light differently or from a wide selection of berber styled carpet, made from level or multi-level loops, plain or patterned. Both wear well, will not show soil, and are ideal for informal rooms.
Fresh New Ideas:
Friezes, sometimes called "California Casual" fashion carpets are fast gaining popularity across North America. An evolution and refinement of the 70's "shag", these new looks are available in many forms. New fashion colors (solids & multi) add warmth and easy care to a casual décor.
URBAN CONTEMPORARY
Distinctly modern, clean, functional & dramatic, the Urban Contemporary décor style is gaining popularity and
Your HomeStyle offers a fabulous range of designer-recommended carpet styles tailored to this look. Minimal care, long wearing carpet with a smooth or refined surface texture, the choices include anything from well-designed mainstreet commercial-type products to linear or geometric loops to short pile, high twist friezes. Upscale colors are available to add softness to high-tech furnishings.
Fresh New Ideas:
Great sisal-look sculptured loop styles are now available in solid, warm earth-tone colors and fresh tinted neutrals. For a natural wool-like touch, look for the new SoftScape™ or Tactesse® labeled fashions.